Are you worried about leading a happy and satisfying life? Or, do you often worry if you are living the true purpose of your life? Or, are you stuck in a job that is not your passion?
If you are looking for the answers, this summary of the book Ikigai is just for you as we are going to address all these queries a few moments from now.
Today we will discuss the book "Ikigai" by Hector Garcia and Francesc Miralles.
Ikigai is a Japanese secret concept that tells you about longevity and happiness. This book tells us how by following the Japanese concept of Ikigai, you can make your life long and happy.
It is a fact that people living on Okinawa Island, Japan, live the longest and happiest life. According to the World Health Organization (WHO), the world's highest life expectancy record is in their name, but what is their secret?
Its secret is Ikigai, which is a Japanese concept. It means the joy of being busy.
Ikigai is a Japanese word that means – the reason for being, a reason to be alive. Purpose of life. The reason for your coming into the world.
The Japanese believe that every person has at least one Ikigai, which they get after understanding themselves. Ikigai is hard to find.
People's whole lives go out looking for it. You will be surprised to know that you also have an Ikigai.
Reasons for reading Ikigai
The authors say about Ikigai that this is a concept of our Ikigai, which helps make the body strong so that we can live longer.
Once you feel like you have no clear purpose for living, no matter how healthy your other daily habits may be, your life span can be seriously shortened.
And research has shown that there is a hack in life. Having a goal can prevent the development of genes associated with inflammation in the body, as well as slow down the process of cell death.
Along with this, the authors of this book give us the following reasons:
1. It shows the purpose
It could be as little as finding a better job or looking to buy a home, cooking a special, or passing an exam. But it helps us to be active. Because our goals, no matter how big or small, keep us going, which allows us to be active and happy.
But to start anything, first of all, knowing about it and deciding the purpose is essential, as it is crucial to allocate the time to start health, wealth, or business.
The author tells his story and says that when he became aware of his big goal, he started getting peace and happiness in every small and big work related to it, and every action made him feel that his life would be happy, which is true today.
It also gave peace to his mind that he is living a purposeful and meaningful life. Even though he sometimes got minor failures, focusing on the goal was essential to his happiness.
2. It inspires happiness
We often miss some of the most critical moments we like or need to be in our busy lives. But Ikigai advises that instead of being grateful for them, we should focus more on living those moments the next time we get the chance.
This book gives you tips to imagine in your mind your happy activities, your best moments, present moments and how it looks, and how good you feel in them.
Because we seldom notice that, instead of how well we can do in the present, we keep worrying about the future.
Therefore, taking time out and think about where I am in life, where I want to reach, and the necessary things to do to help human happiness and peace of mind both in the present and future.
3. Happiness lies in simplicity
The people of Japan like simplicity. Many people have made significant inventions, written books, researched, and achieved great success, but they give importance to simplicity in life.
They believe the spirit of being together, an active daily routine, matters for a peaceful, healthy, happy, and long life. Apart from this, the Okinawa residents of Japan also give a mark of kindness.
4. It promotes health awareness
The book Ikigai makes us aware of how to be healthy; it tells us to constantly move the body to be active and to keep it at the moment; you can walk or walk in your row in the office or do your desired activity.
5. It helps in increasing positivity
Apart from this, this book also helps us to stay positive while teaching our desired work and positive thinking.
Find your Ikigai
Here are the 12 steps suggested to find your Ikigai about whom we will talk in detail. Understand every step very carefully because every step can change your life completely.
Step 1: What is the meaning of life?
What is the meaning of your life? This question haunts all of us at some point or the other. Could you take a look at it? If you find the purpose of your life. That purpose of life we ​​are looking for.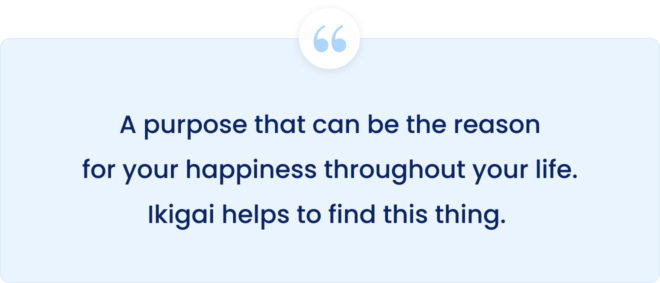 So understand, one will find a reason to wake up in the morning and sleep peacefully at night. A purpose that can be the reason for your happiness throughout your life. Ikigai helps to find this thing.
To find your Ikigai this way, you should ask yourself these four questions:
Question 1: What is love?
This question is probably the easiest. For this, think about what work you like best, which gives you energy, which you enjoy doing. In doing this, you stay energized and energized. This can be anything. Like – painting, singing, cooking, teaching, reading, traveling, or Youtube like me, etc. Any work that attracts you a lot. This could be your office work. Family work can happen. This can be your interest.
Question 2: What are you good at?
What work are you good at? In which work are you an expert? What skills do you have? In which you are already good naturally, or you have an interest in doing and learning it.
It can be different for each one. Therefore, find such a thing in which even if you have a little bit of natural skill, even if there is no perfection, then it will come slowly while doing it.
Question 3: Do you get paid for this?
If you talk only about love and good, then you can like to do anything. But it is optional that for this thing, you should be paid. Maybe you love cleaning the house. But for this thing, no one will pay you. So find some work that the world also needs so that they will pay you in return.
Question 4: What does the world need?
For this, you see, whether the people you like need anything. So what does the world need from these so that their problem can be solved? So that you can solve people's problems through your favorite work and improve your lifestyle by earning money.
Step 2: Knowing Ikigai and knowing the circle
1. Know the Passion
What is expected is called your passion between the first and the second circle. That is, do whatever work you like, in which you are good too. That is called your passion.
2. Professional Circle
Circle between the second and third circles; what is expected is your profession. That is, the work you are good at.
3. Vocation Circle
Between the third circle and the fourth circle, what is expected is your vocation. That is, for whatever work, you can get money. In the same position, if the world even needs it, it can become your vocation.
4. Mission Circle
Between the fourth circle and the first circle, which is expected, is where your mission lies. That is what the world needed. You loved doing the same thing. So that becomes your mission, and both benefit.
In this way, if there is some work you like to do in your life, you are also better at that work than others, then you can get money also. And according to you, people need that work in the world too. So much work is called in Japanese – Ikigai.
To live a happy and fulfilling life, you'll have to find your Ikigai. And when you see your Ikigai in your life, only then can you live a fulfilling life; otherwise, always in life, something will remain incomplete. And for all this, with all sincerity, you have to find answers to these four questions.
Step 3: How to find your Ikigai?
First of all, make a big square. Then, divide it into four equal square parts.
Write in the first square: I love this work and am also an expert in it. You write all those things in it which you love to do and are an expert in them.
Write in the second square: I like this job but don't know how to do it well. That is such work that you love very much. But they don't let you do it. But your heart does too much to make that work.
Write in the third square: Just not my cup of tea. But they have to be done. That is, doing things you don't like to do. But it has to be done under compulsion. If you don't like programming, it has to be done to stay in the job and earn money.
Write in the fourth square: Just not my cup of tea. I can't even do well. What are things that you don't even like? You are not even his expert. Still, you have to do it under compulsion, like you have to clean your room.
After writing these, you see that in what activities do you spend most of your time? How much time do you spend doing those things?
Which you are good at and you also like. How long do you spend doing something you don't like? The author recommends doing this because most people spend more time doing work they do not like. That's why they can't get their passion. And there is a feeling of incompleteness in life.
Meaning that such people spend more time in the bottom two squares. But to find your passion, you should devote more time to the above two works.
You should spend more time on the above tasks without quitting your job. In these tasks, please focus on the ones you like the most and enjoy doing them too. By which later on, you can earn money too.
And have faith that you will find your Ikigai if you look for it honestly.
Step 4: Four Secrets of long, happy life and healthy living
Some particular habits are included in the life of the people of Okinawa, Japan. Because of this, they live a long, happy, fulfilling, and quality life.
1. Stress
The people of Japan believe that stress and depression are the enemies of longevity. Therefore, stress should always be avoided to lead a happy life.
2. Food and drink
People of Japan never eat full stomach; they always eat only 80% of their hunger. For this, when you eat food, stop eating immediately as soon as your stomach is about to fill. Initially, you may not know when you have eaten 80% of your food, but you will learn as you do it slowly.
In a recent study, it has been found that the people of Okinawa consume an average of 1800 to 1900 calories per day; apart from that:
The people of Japan eat an average of 18 different types of foods every day.
Take five servings of fruits and vegetables daily containing different colored capsicum, carrot, spinach, cabbage, potato, legume, and soybean.
30% of the calories of the people of Japan come from vegetables only.
Wheat is the foundation of Japanese people; they eat white rice daily.
Fish is eaten three times a week.
Salt is eaten on an average ranging from 7 grams to 12 grams.
Apart from this, Japanese people also consume green tea and white tea.
3. Doing one thing at a time
Whatever work you do, having focus brings flow to your work so that you can do that work very quickly and without getting tired.
Therefore, always choose the work you have to research; you will have to work hard, and your mind will always have to think so that your focus remains.
We feel that doing more than one thing at a time saves time and can finish more work in less time, but the scientific evidence of doing this is just the opposite.
Research has proved that people who do more than one work at a time finish the work late and are not productive at all while doing that work.
That's why we should do only one thing simultaneously with complete focus.
Step 5: Ikigai retirement and health lessons
Did you know there is no word like retirement in Japanese? The people of Japan never retire from their work; they keep on working their whole life.
On the other hand, if we talk about other countries, people need early retirement. They should get rid of their work by any means which happens because they do not love their work.
When you do any work forcibly or just for money, then you are not happy with that work. The company you work for also does not get more value from you.
Therefore, to live a long and happy life, you should love your work; then, you will never think of retirement because your happiness will now be in your work and not sitting at home and rusting your body.
If you sit for too long, you will get old sooner. Sitting for a long time may give you physical comfort, but it will damage your cells, and cause food imbalance, hypertension, and even cause cancer.
And to avoid this, you should add these few habits in your daily life:
Walk for at least 21 minutes daily
Do not use a lift or elevator
Participate in social activities so you do not sit in front of the TV for a long time.
Replace your junk food, and packaged food with good food
Get good quality sleep, and take 7 to 9 hours of sleep. Do not sleep more than this
Play with your children or your pet
In the beginning, you can also set a timer so that you remember that it is time to walk,
You can also use the app from Google, which gives you the task of walking daily.
Step 6: Focus on Work
It is essential to have focus while doing whatever work you do. Having focus brings flow to your work so that you can do that work very efficiently and without getting tired.
To bring focus and flow to the work, you should follow the mentioned things:
1. Choose the hard work
As we discussed earlier, always choose the work that you have to do research on. You will have to work hard, and your mind should always be thinking so that your focus remains.
Keep in mind that do not choose any such work which is out of your ability and it is so difficult for you to do it that after a few days, you stop doing it. Don't even do what is easy for you as you will feel bored. Stop doing it.
2. Clear objective
Before starting any work, you should have a clear objective of doing it, what you have to do, when to do it, and why to do it. You should know all these things in advance. There should be a deadline so that you can finish it on time and not postpone it further.
3. Only one task
And as we have known earlier, only one thing at a time.
Step 7: 10 Short rules of success through Ikigai
Surround yourself with good friends
Live life at a slow pace
Do not fill your stomach entirely while eating.
Make your body in shape
Be in the present
Always smile
Be active, don't retire
Connect with nature
Learn to be grateful
Find and follow your Ikigai
Step 8: Okinawa elder's advice
Elders have a lot of wisdom to share with the world from their years of experience. Those of us young can sometimes pretend we know everything, but we should learn essential things about life from generations senior to us, who know better than us.
And at the same time, focus on enjoying life with what you have rather than what's going wrong or isn't.
A great way to do this is to connect with everyone around you, even strangers. And that's what the old-timers in Okinawa suggest: smile and talk openly to everyone you meet.
The friendly attitude that develops from this will help you develop friendships with many people throughout your life.
Okinawa elders also recommend building such loving relationships and maintaining those relationships.
To learn more about making friends, please read the summary of "How to Win Friends and Influence People." The link is just down below:
Step 9: Keep moving throughout the day
Okinawa residents suggest you are not required to play a sport or run to be healthy. For this, you can decide on any running work according to your convenience.
Because speed can inhibit consistency from the start, Okinawans try to keep their forms of running exercise simple. Jogging around, days in the garden, or singing for fun are just a few simple ways they go through the bar.
Keeps up the pace. Apart from this, Radio Tasso, a Japanese radio show, has helped Okinawas to exercise for years. It plays tunes in a big station in Japan, and people listen to the directions to exercise.
To maintain body and mind movement, you should also get up in the office for some time and walk in your row or office.
Step 10: Japanese people's secret to living a long life
Japanese elders share these five secrets to living a long life:
1. They Don't worry
The secret to a long life is not to worry. And to keep your heart young, don't let it grow old. Open your heart to people with a friendly smile on your face.
If you smile and open your heart, your grandchildren and everyone else will want to see you. The best way to avoid worrying is to get out and socialize.
Older people in Japan often do this. That's why they have been able to live so long. According to them, you need to be happy instead of worrying about living a long life.
Spending time with others without causing trouble to anyone and having fun is all that matters.
2. Cultivate good habits
Good habits matter the most for long life. In today's time, getting up late has become the most significant bad habit.
Your body is not active, due to which your body becomes tired. So, first of all, make a habit of getting up early and doing some work in the morning, which will make your body agile.
Do something that relaxes you. You can run or walk after getting up early in the morning.
You can also do some work at home, like yoga, watering plants, or planting new plants. After this, come home and make breakfast with your hands.
Use green vegetables in your breakfast. Just find your Ikigai no matter what you're doing. The key to staying sharp in old age is at your fingertips. If you keep your fingers busy, you can live for 100 years.
Remember that if you do not work after getting up in the morning, your body becomes weak. After this, pray to God for your good health and good life.
And do these things consistently every day. Keep in mind – eating vegetables helps you live longer. You need to do three things to live a long time:
Exercise to be healthy
Eat well,
Spend time with people.
3. Nurture your friendships every day
Keeping in touch with your friends, keeps adding another year to your life. Because your friends are those people who make you feel happy and memorable.
And being with friends is the most pleasurable thing in life. The people you love are the secret to a long life. To understand the importance of this thing and spend time with friends.
Chatting, drinking tea, and singing with your neighbors are the best things in life. Go to new places with your friends; it will make you happier. The secret of a long life is mixing with people and moving from place to place.
4. Live an incomplete life
For long life, focus on doing 'slow' and 'at ease.' If you are not in a hurry, you will live longer. Many old men in Japan share this secret to live longer.
They wake up early, exercise, and have a good breakfast. And when they get tired after all this, they meet their friends.
Doing many different things every day prolongs your life. Nowadays, people are very busy due to their busy schedules, and sometimes they also become overwhelmed with their work.
But doing so can never increase your life. Therefore, when crushed, focus on one task at a time. By doing this, you can also complete your current work correctly. Remember, the secret to a long life is to go to bed early, rise early and go for a walk.
If you live in peace, enjoy small things, and meet your friends, no one can stop you from living more.
5. Be optimistic
Tell yourself every day, 'Today will be a day full of health and energy. Live it to the fullest.' Of course, no matter how old or weak you may feel, tell yourself I still have much to do.
And laugh out loud while saying this. Laughter is the most important thing. Wherever you go, laugh there; it will put you and the person living with you in a good mood.
And you will get the motivation to work. The mood in which you spend your time matters a lot. If you look at the statistics, people who are sad, unhappy, or angry die before people who laugh more and be happy.
So make laughing your priority. Consider yourself lucky to be in this life. Say thank you, and help others; it will give you a feeling of happiness and satisfaction. To live longer is in your hands; embrace it.
Step 11: Logotherapy to Ikigai
People are not happy due to a lack of purpose in their lives. Due to a lack of meaning in life, life does not seem meaningful.
And it becomes the reason for your sadness, which makes it impossible to be happy for a long time. Even many people give up hope and try suicide, which is a big problem. You can use the logotherapy technique mentioned in the book to overcome this problem.
Logotherapy… What is it?
Logotherapy inspires patients to consciously search for their life's purpose to confront their neurosis. Their search to fulfill their destiny leads them to mental blocks of the past, breaking and overcoming all obstacles that stand in the way.
The process of logotherapy steps can be best understood in these five steps:
The person feels empty, hopeless, or anxious.
The therapist shows him that he desires to have a meaningful life.
By which the patient comes to know his life's purpose at that particular time.
He decides to accept or reject his destiny with which his whole life is connected.
And when the patient finds this new passion. This new passion of his helps him to overcome obstacles and sorrows.
If the person needs help doing this, logotherapy helps him by visualizing the picture. He needs guidance in the search for his life's purpose and overcoming troubles to move toward his purpose. According to logotherapy, discovering one's life purpose helps the individual fill that gap.
Step 12: Important lessons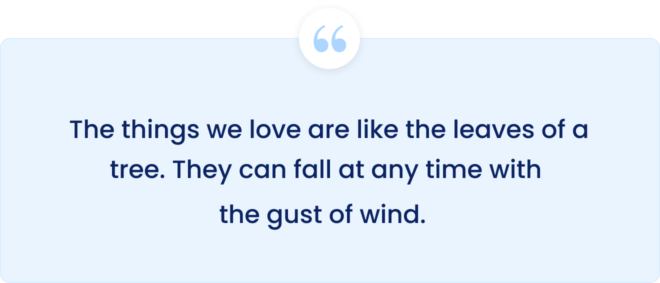 Life lessons from the book:
An intelligent person should not avoid the pleasures of life but should always be aware that dependence on them can make him a slave to satisfaction. That's why you should make it a habit to be happy from the heart instead of being prepared for those pleasures which vanish in no time.
The present is everything that exists, and it is the only powerful thing we can control and through which we can control our today and future life.
The things we love are like the leaves of a tree. They can fall at any time with the gust of wind. Everything we have, and the ones we love, will eventually disappear. So we have to be aware to be happy with it without being pessimistic about it. We should be happy in the present, which helps us avoid much pain during loss.
There is no exact plan to connect with our Ikigai. So don't worry too much about finding it. Just be engaged in what you love while surrounded by people who love you.
We don't make meaning of our life; we find it by doing the work we love, so we do the work passionately.
Each one of us has a unique reason to be alive. Find it and live life to fulfill the purpose of life.
Daily healthy habits:
Japanese stop eating when their stomach is 80% full.
Stress is a proven killer. While challenges in life are suitable for keeping the mind and body active, we should focus on solving the fundamental challenges and avoid the rest.
Take rest. Start slow and keep doing it. Eat well and sleep. Everything is fine. Life is a marathon, not a 100m sprint.
Keep your mind and body busy.
People with a clear purpose never retire and stay with their passion till their last breath.
Smile and meet people.
Work hard, but on your Ikigai. Work as little as you can on the rest.
Just get started, and start with the most accessible and most comfortable steps. Keep improving it with time and information.
Eating habits
Eat everything in a little. Diversity is key. Eat a variety of foods, especially vegetables.
Apart from this, the people of Okinawas rarely eat sugar. But no sweets or chocolates or negligible, so diseases like sugar are rarely heard in Japan. So to avoid sugar and stay healthy, you should also use this method.
Eat lots of citrus fruits. They contain chemicals that prevent cancer, diabetes, and obesity.
Conclusion
So, friends, this is the secret of Japanese people's happiness and healthy living, which is called Ikigai. We learned that more time, energy, and attention should be given to working passionately, adding value to people's lives with the work you want so that you also work on your passion and people's problems should be solved. And one should live for it by making a clear goal in life.
I hope you have learned about passion, happiness, and health. Now adopt them in your life and become successful by doing your passionate work.
Ikigai Book Review
So, I hope that you liked the summary of the book "Ikigai: The Japanese Secret to a Long and Happy Life" by Héctor García and Francesc Miralles. I found this book to be a treasure trove of wisdom and inspiration.
"Ikigai" is a Japanese concept that roughly translates to "a reason for being." It's the idea that a fulfilling and happy life comes from discovering and pursuing one's true passion and purpose. This book takes you on a journey through the lives of the inhabitants of Okinawa, a small Japanese island known for its high concentration of centenarians, people who live well into their 100s.
The authors, García and Miralles, expertly weave together a narrative that is both engaging and informative, combining interviews, personal anecdotes, and scientific research. What I found particularly captivating was how they managed to uncover the secrets of the Okinawans' longevity and happiness, and how these lessons can be applied to our own lives.
One of the key lessons I took away from the book was the importance of having a clear purpose in life. In Okinawa, people are encouraged to discover their "ikigai" early on and dedicate their lives to it. This resonated with me deeply, as I realized that I too needed to find my own "ikigai" and live a more purpose-driven life.
The book also emphasizes the importance of balance in life. Okinawans manage to strike a perfect balance between work, leisure, and social connections. This holistic approach to living was refreshing, as I often find myself caught up in the hustle and bustle of daily life, neglecting important aspects of my well-being.
One of my favorite parts of the book was the practical advice the authors provided for applying the concept of "ikigai" to our own lives. They propose simple yet powerful strategies like fostering a sense of community, staying active, and eating healthily. These are ideas that may seem obvious, but the way García and Miralles present them makes you see their importance with newfound clarity.
The prose is easy to read and engaging, making the book a pleasure to read. The authors' passion for the subject matter is apparent throughout, and their genuine enthusiasm for the Okinawan way of life is contagious.
In conclusion, "Ikigai: The Japanese Secret to a Long and Happy Life" has had a profound impact on the way I view life and happiness. I highly recommend this book to anyone seeking inspiration, wisdom, or simply a fresh perspective on living a more fulfilling life. It's a journey that will surely stay with me for years to come.